WORKING WITH WORCESTERSHIRE INNOVATION
Jun 21, 2021
WORKING WITH WORCESTERSHIRE INNOVATION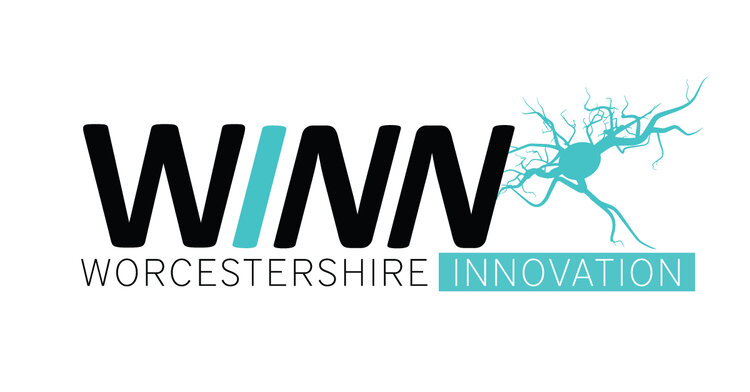 OVER THE PAST 18 MONTHS, WE HAVE BEEN WORKING WITH WORCESTER INNOVATION AND WE WANTED TO SHARE THE GREAT THINGS THEY HAVE TO OFFER. WINN BELIEVES THAT '"GREAT THINGS HAPPEN WHEN PEOPLE GET TOGETHER", WE HAVE BEEN LUCKY ENOUGH TO SEE THIS FIRSTHAND THROUGH OUR SUPPORT AND INVOLVEMENT IN LAUNCHPADS.
WINN RUN SEVERAL INITIATIVES WHICH WE THINK SET THEM ASIDE FROM OTHER BUSINESS SUPPORT PROGRAMS. THESE INCLUDE AN INNOVATION PLATFORM LAUNCHPAD, THE WINN SHOW, AND WHEN FACE TO FACE IS ENABLED SOME AMAZING EVENTS. THERE IS ALSO THE WINN 'MAKE IT HAPPEN' CHALLENGE, WHICH WE THOUGHT WAS SO GREAT THAT WE DECIDED TO BECOME A SPONSOR.
INNOVATION LAUNCHPAD
OUR LEAD COACH EMMA HAS BEEN ONE OF THE TRANSFORMATIONAL COACHES THROUGHOUT THE LAUNCHPAD PROGRAM. THIS IS A TWO-PHASE PROGRAM WHERE BUSINESSES WORK WITH OTHER INNOVATIVE ENTREPRENEURS EXPLORING NEW IDEAS. THIS IS THEN FOLLOWED BY 6 HOURS OF BESPOKE PROFFESSIONAL COACHING WITH ONE OF THE SPECIALIST ADVISORS (ONE OF WHICH IS OUR WONDERFUL EMMA!).
WORCESTERSHIRE AS A COUNTY HAS SO MANY INNOVATIVE BUSINESSES PEOPLE AND IDEAS, WINN IS HERE TO HELP TO FOSTER AND GROW THIS.

IN ORDER FOR INNOVATION TO DEVELOP AND GROW ONE OF THE FIRST STEPS IS TO GET INSPIRED. WHEN ASKED ABOUT THE WINN LAUNCHPADS EMMA SAID "IT HAS BEEN INCREDIBLE TO BE INVOLVED WITH SUCH AN INSPIRING AND PROGRAM, THE ENTHUSIASM IMAGINATION AND PASSION FROM THE WINN TEAM IS INFECTIOUS NOT ONLY TO ALL THOSE WHO ATTEND THE PROGRAM BUT TO US AS COACHES". WNN CHANGES IDEAS INTO SOMETHING THAT IS NOT ONLY TANGIBLE BUT IS OUT THERE MAKING A DIFFERENCE IN WORCESTERSHIRE. THE RANGE OF BUSINESSES THAT EMMA HAS HAD THE OPPORTUNITY TO WORK WITH IS VAST AND SHE IS PROUD TO BE ONE OF THE COACHES ON BOARD WITH THIS PROGRAM.

WE WOULD LOVE TO SEE YOU ON ONE OF THE LAUNCHPAD MISSION DAYS - YOU CAN BOOK ONTO THESE ON THE WINN HUB WEBSITE. WE ALSO CAN'T WAIT TO SEE YOU AT ONE OF THE WINN WEDNESDAYS ONCE WE ARE ALL OUT AND ABOUT AGAIN.
THE WINN SHOW
CELEBRATING WORCESTERHSIRES BEST INNOVATIONS, DISCOVERING IDEAS ACROSS ALL SECTORS AND TALKS OF TACKLING THE BIG COVID-19 MONSTER - THE WINN SHOW HAS IT ALL!
TUNE IN TO AN INFORMATIVE AND FUN SERIES PRESENTED BY THE WINN TEAM WITH LOADS OF GUESTS FROM AROUND THE COUNTY. YOU NEVER KNOW, YOU MIGHT HAVE A SPARK OF INSPIRATION TO START YOUR OWN INNOVATION!
WINN WEDNESDAYS
WINN WEDNESDAYS IS A NETWORKING EVENT THAT TAKES PLACE TO ALLOW SPACE FOR WORCESTERSHIRE INNOVATORS TO WORK COLLABORATIVELY CONNECTING THROUGH THE GENERATION OF NEW IDEAS. FOCUSING ON EVERYTHING WORCESTERSHIRE, WINN WEDNESDAYS OFFER FUN CREATIVE TASKS AND PRESENTATIONS ON A VARIETY OF TOPICS.
WE MISS WINN WEDNESDAYS BUT HAVE BEEN INSPIRED AND IMPRESSED BY THE AMOUNT OF ONLINE SUPPORT AND INNOVATION THE TEAM HAVE MANAGED TO OFFER DURING SUCH CHALLENGING TIMES.
SO IN THE WORDS OF WINN "GREAT THINGS HAPPEN WHEN PEOPLE GET TOGETHER", SO LET'S PULL TOGETHER AND MAKE WORCESTERSHIRE THE PLACE ON THE MAP FOR INNOVATION.